All About Jazz (USA) - original article

CONCERT REVIEW
Norwegian Jazz 101: JazzNorway in a Nutshell 2008
Maijazz, Utstein Kloster
May 11, 2008

By JOHN KELMAN


In the Country, Jan Garbarek Group and JazzNorway in a Nutshell Ends

While some of the JNiaN attendees had to leave early on the final day of Mai Jazz, May 11, those who didn't were treated to a terrific last day. Driven to lunch at a hotel in Utstein Kloster, where those remaining took the opportunity to thank the organizers of JazzNorway in a Nutshell for a trip that for most will be remembered as one of the most memorable experiences of their lives, the real highlight of the trip was walking to the nearby monastery, where intrepid piano trio In the Country delivered a show in the chapel that combined ambient soundscapes and pop-like songwriting with remarkable free passages that, at times, were turbulent and tumultuous.

Keyboardist Morten Qvenild, bassist Roger Arntzen and drummer Pal Hausken recreated some of the best material from This was the Pace of My Heartbeat and Losing Stones, Collecting Bones, without the benefit of many of the additional instruments used in the studio, as well as the additional capabilities afforded by the recording studio to shape the aural landscapes of its repertoire. Like Mathias Eick two days prior, In the Country found a way to take the softer, more elegant material from its repertoire and infuse it with greater energy, making it a live band somewhat different from its recordings, but no less enjoyable. In the Country made it clear that it is not just a studio contrivance; it's a real performing act capable of a broad range of emotions.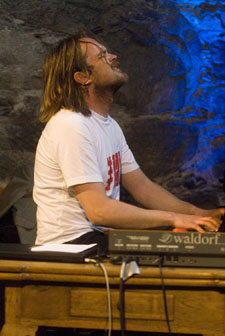 Qvenild possesses a number of stylistic markers including a hint of a young Keith Jarrett's gospel, but unlike another Norwegian pianist, Tord Gustavsen—who has fashioned a remarkable career to date by exploring the nooks and crannies of a very limited tempo range—Qvenild can be an aggressive player when necessary. Arntzen possessed some interesting extended techniques, and an ability to cross the line between rhythmic support and melodic front-liner, while Hausken was as effective when simply bowing a bell as he was playing with greater fire. Lumping the group in with other contemporary piano trios like e.s.t. may be an easy way to contextualize them, but In the Country's compositions are less direct, more oblique and possessed of a vibe that is attractively resonant but not the least bit pandering. Accessible music that challenges the mind even as it touches the heart, In the Country's reputation has been steadily growing over the past three years, and with performances such as this, they'll no doubt continue to gain ground.


Published : 16.05.2008