MIC - Music Information Centre (Norway) - original article

ARTICLE
Bone Collector
By: TOMAS LAUVLAND PETTERSEN


Industry news We don't consider us as a jazz trio – we're more of an indie band says pianist of celebrated Norwegian trio In The Country whose latest album "Losing Stones, Collecting Bones" has garnered rave reviews at home and abroad. Now the trio gears up for its appearance at by:Larm in Trondheim.


Indie, not jazz: With their second album "Losing Stones, Collecting Bones", piano trio In The Country have stunned jazz critics and record buyers at home and abroad. ITC's Morten Qvenild (who's also a crucial half of acclaimed duo Susanna & The Magical Orchestra) doesn't fear that the trio's upcoming by:Larm slot will come across as being out of context:

- I don't really consider us a jazz trio – we look upon ourselves much more as an indie-band, says the proficient pianist (and part-time vocalist) who's in the midst of a hectic domestic mini-tour when MIC reaches him. - Playing by:Larm just feels right for us; we're much more into current Americana than, say, current American mainstream jazz. It's important to be present at by:Larm and to reach out to an audience that would otherwise be hard get to in a traditional jazz-club setting.

Qvenild looks forward to the trio's Trondheim appearance: "We've really enjoyed playing in Trondheim in the past and this probably won't be an exception. We're hoping that we can create some kind of quiet and secluded zone where people can escape from the bedlam of loud gigs and hordes of people. The audience can expect a really dynamic gig that spans from really delicate and hushed tunes to much more extrovert and loud stuff. Our tunes have plenty of rock-references so the audience needs not to fear being alienated by us!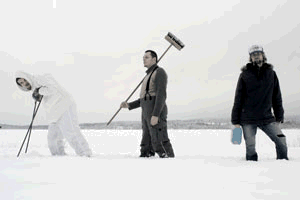 Travels and exploration: In The Country is a trio that takes its name from notions of out-of-town travels and home-turf exploration. The members share a love for revisiting their own country, exploring mountain, forest, coast and sea; sharing favourite places and spots with each other.
This mind-set is also defining for the music they make: Indifferent to excess and grandeur -almost shy- the general orientation is rather one of unhurried and honest clarity. This means narrowing down to musical particulars and upholding tranquil simplicity rather than pushing limits and excelling in performance. The characteristics of unhurried motion and simple "cleansing" structures, with only few emphasized details, do indeed bear similarities to experiences of nature or countryside. It reminds one of the promise of enlightenment through simplicity and it gives the music a character of what the New York Times in its recent review of their latest album "Losing Stones, Collecting Bones," called translucent intimacy. This concept refers to the atmosphere of internal coalescence that the music manifests: The record shows for itself an exquisite kind of openness and freedom; a lightness to make music that doesn't prove anything, but simply reveals the honest musical conceptions of the band.

The compositions are all written by Morten Qvenild, the pianist and driving force behind the band. In The Country was formed by Qvenild, drummer Pål Hausken and bassist Roger Arntzen in 2003 while they where all studying at the National Academy of Music in Oslo. Though they are certainly a band, it is nevertheless true that it is Qvenild's musical visions that are set forth. Involved in many different successful projects, In The Country is his own creation, and it has been described as a kind of musical self-interpretation. This refers to the fact that Qvenild is more broadly oriented than most jazz pianists. As mentioned, he is more about merging different general kinds of expression, drawing on genres outside jazz and exploring that freedom, than he is in typical piano virtuosity.

Vocal inspiration: - For me it's all about the song really, says Qvenild. I draw most of my inspiration from great songwriters such as Van Morrison, Bob Dylan and Ryan Adams and even if we write mostly instrumental music it's important that the melodies can be sung. I don't write melody lines with strange and challenging intervals that couldn't be sung. In my opinion, ITC's music has references that are natural and original, not overly complex and contrived – we don't write stuff that's feels unnatural to us.

"Losing Stones, Collecting Bones" exemplifies ITC's vocal focus on a number of tracks. Most evidently are of course Swedish vocalist Stefan Sundstrøm's crooning contributions but in addition to this, Qvenild also lends his own distinct voice to some of the disc's tracks.


Downbeat favourites: The band's first release, 2005's "This Was the Pace of My Heartbeat," was labelled "one of the finest and most arresting albums to come out of Europe" (that year) by Downbeat Magazine. Other critics were just as impressed, on both sides of the Atlantic, and the amount of attention was a telling sign of the position that young Norwegian jazz currently holds internationally:

"Losing Stones, Collecting Bones" has received reviews on par with the debut, or even better. Hailed as a masterpiece by domestic media, international reviews have just begun trickling in. Not least in the New York Times whose critic sums up by saying that "the thoughtful album drafts bittersweet melancholy as a softer cousin to the blues." In addition to the NY Times, Mojo, Uncut, The Guardian, Q, Time Out USA and Allaboutjazz.com have all awarded the release glowing reviews.

Late last autumn, ITC teamed up with Supersilent and Susanna & The Magical Orchestra for a very successful European tour: "We played for all kinds of audiences, from the purist a jazz folk to indie kids, says Qvenild, - what they had in common was that they were really open minded and not concerned whether if it was jazz or not – just like us. The audiences were really responsive and positive – we had a great time!

The 2007 itinerary calls for a number of appearances at festivals at home and abroad as well as a US tour in June.

Wilco + ITC: "Losing Stones, Collecting Bones" featured collaborations with NYC guitarist Marc Ribot (of Tom Waits fame) and Swedish vocalist Stefan Sundstrøm. Qvenild welcomes the thought of new voices on the trio's next album whose conception is hoped to begin this autumn: - I'd really like to work with Björk's harpist Zeena Parkins or Ikue Mori, but the one of the top of our wish list is without a doubt Wilco's Jeff Tweedy – that would rock!


Wilco + In The Country – what could be possibly wrong with that? Doesn't it sound like a match made in heaven?


Published : 07.02.2007