The Norwegian embassy in Serbia and Montenegro - original article


"In The Country" performed in Belgrade
Date: 18.09.04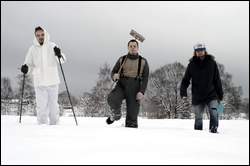 "In The Country" a piano jazz trio from Norway had a concert on Saturday 18th September in Dom Omladine in Belgrade. "Pogon" hall was too small to host enthusiastic audience. It was a pleasant surprise for organisers and the band members themselves.
The band was awarded the "Jazz Intro" prize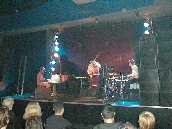 this during the Molde Festival this year, a two year award program by Rikskonsertene in competition with numerous Norwegian bands. They are all examined from The Norwegian Music academy in Oslo. They have been admitted as group for master degree at the same academy from this fall. The concert of the "In The Country" piano trio is followed by a jam session with Coxless Pair from Belgrade.
"In The Country" are three young musicians Roger Arntzen (double bass), Morten Qvenild (grand piano) and Paal Hausken (drums). Roger plays the bass with the trio "In the Country" who was awarded "Young jazz Musicians of the Year 2004", and is about to start his studies, with the trio, at the postgraduate courses of jazz/improvisation at the Norwegian Academy of Music in Oslo. He is also playing the bass in the quartet "Damp", who represented Norway under the "European Jazz Contest" in Avignon 2001, and in the band "Subtonic"- a vocal featuring quintet. Morten Qvenild (grand piano) was a student of Misha Alperin (Moscow Art Trio), former piano player of Norwegian cult band Jaga Jazzist, part of duo "Susanna and the Magical Orchestra", released on Runegrammofon. Morten also plays with Solveig Slettahjell, a Norwegian Jazz singer who has recently received great critics in Billboard Magazine. He is also part of new big pop band to be released on the Norwegian market any day now, called "The National bank". Paal is the drummer in Tub Quartet, a young Norwegian band with the talented singer Hilde Marie Kjersem. They have played a lot of jazz festivals in Norway, and they have just released their first album "Red Shoes Diary" at Curling Legs. He also plays in an improvisation – ensemble (L.U.N) that works with dance as a big part of the expression.
The organiser of the concert was «MULTIKULTIVATOR Service for Culture and Arts Development» and Dom Omladine of Belgrade. There were several successful concerts that already took place in recent years where the Belgrade audience had a chance to hear live some of the most interesting bands/musicians of the Norwegian contemporary music scene. Concerts like, Sidsel Endresen & Bugge Wesseltoft (Sava Centar 2003), St. Thomas (DOB 2003), SISU (DOB 2002), Misha Alperin's Moscow Art Trio (DOB 2001).
This concert was the highlight of a one-week sound recording workshop «Art of Life in Sounds» with Asle Karstad who is one of the leading Norwegian sound engineers. The workshop was the result of cooperation with the students and professors from The Technical College in Belgrade at the audio-visual department.


Published: 18.09.04